Tahunanui Beach was commonly known as 'The Sands' until a competition was run in 1902 to suggest a name, with a prize of One Guinea. The Maori name Tahuna was selected from 442 entries, the English translating as 'sea beach' or 'sand hill', with Tahunanui being suggested to refer to the locality. As there was an existing Tahuna Post Office in Morrinsville, Tahunanui was officially granted in 1911.
The Collective Holiday Memories short story and photo competition have been inspired by the legacy of this turn of the 20th century competition – we are again inviting the community to get involved in developing the heritage value of the area by sharing their holiday memories.
From now until 31 October 2016, submit your own stories and photos and you'll be in the running to win one of four big prize packages (valued around $8000), including one week's accommodation at Tahuna Beach for up to nine people.
Find out more about the competition here.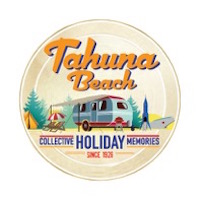 Did you know that the term "collective memory" is used to describe those memories that are shared by groups? Neurobiologists often prefer to use the term "memes" (rhymes with genes), a word coined by Richard Dawkins.
The design of the Collective Holiday Memories icon on the left was inspired by the Guinea coin.